Buying a used car can seem like an overwhelming task. What questions should I ask? How do I know if I'm getting a good deal? What cars are available? Well, fret no longer. Honda Carland of Roswell, GA has a fantastic selection of used vehicles, and we are here to make the process as smooth as possible. Our dealership has more than just Honda used cars. You'll love our pre-owned options on the lot. Whether you live in Alpharetta, Roswell, Atlanta, or any surrounding Atlanta city, know that we can find the right car for you at Honda Carland!
Why should you buy a used car?
Affordability
We have used vehicles in anyone's budget. Feel free to take advantage of our price selector tool on our Pre-Owned Inventory page to see lists of vehicles in every price range - from >$10,000-$40,000.

Peace of Mind
All of our used pre-owned Honda's come with the
Covered For Life lifetime warranty. As long as you own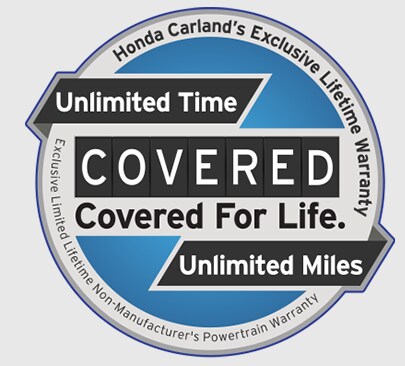 a Honda Carland vehicle and perform factory required maintenance, you can get service and repairs at any licensed repair shop anywhere in the U.S. and Canada - that's convenience! Our program extends the Manufacturer's Powertrain Coverage - that means you drive with confidence!
Avoid The Depreciation Drop
A new car's greatest deprecation period is the time right after purchase. Did you know during the first 5 years a new car can depreciate in value up to 15%-25% per year?
Multiple Options
When purchasing a used car you are not constrained by what the market trend is. Currently Honda Carland has over 130 used cars to choose between - Hondas, Mazdas, Hyundais, Nissans and more. Come test drive any of our used models, from a used Honda Accord to a used CR-V EX-L, we can find you the perfect used vehicle.
If you have any questions you can speak to one of our agents here. Or you can always stop by our dealership is Roswell, GA. Whatever used vehicle you decided on, know that if it comes from Honda Carland, it's sure to be the right one for you!